"Umsonst" by Johann Nestroy had it's premiere under frenetic applause on November 13th at the Wiener Volkstheater. Director: Michael Schottenberg.
Main characters: Andreas Vitasek, Thomas Kamper, Julia Gschnitzer, Günter Franzmeier.
Music for an 8 piece choir + body percussion by Mischa Krausz.
Voices: Chorvereinigung Neubau. Body Percussion: Richard Filz

[ more infos with video ] [

pictures

] [ kurier.at ]
Der Winzerkönig. Writing and producing the score of the 3rd season of "Der Winzerkönig" is now in progress.
[ more infos @ filmstills.at ]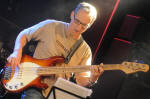 Live on stage Mischa Krausz played the bass on some summer-gigs with OPUS - one of them in Beirut! - and with Andrew Young.
Mischa Krausz will appear as bass player on the new album of Gert Steinbäcker (release in spring 2010).
[ live with Opus:

pictures

]
[ live with Andrew Young:

pictures

- thanks to Dietmar Lipkovich ]
The documentary DEFAMATION by Yoav Shamir (score written and produced by Mischa Krausz, Premiere in February at the Berlinale 09) is screened throughout the world in several festivals with big success:
S
tanley
K
ubrick
A
ward
for
b
old and
i
nnovative
f
ilmmaking
-
Traverse City 09
,
Michael Moore´s Festival
First Research Award
-
Tel Aviv DOCAVIV 09
Audience Award
-
Madrid, Documenta 09
Grand Award
-
Documentary Filmfestival of
Paju 09
Grierson Award for Best Documentary 2009
-
T
he
T
imes
BFI, London Film Festival
A
mnesty Award
-
CPH
,
DOX
,
Kopenhagen
The Peoples' Award for Best Documentary - Feature Film Competition Festival dei Popoli, Florence/ Italy
Special Jury Mention
-
Prizren 09
Special Jury Mention/Award
-
New York Tribeca Filmfestival
,
Robert de Niro
'
s Festival
Special Jury Mention
-
Z
ürich
FilmFestival 09
Nominated to the A

sian

P

acific

S

creen

A

ward

-

B

est Feature

L

ength

D

ocumentary 2009
Nominated to the European FilmAcademy´s

Best European Dokfilm

- P

rix Arte
DEFAMATION deals with the phenomenon and the world wide fight against Anti-Semitism from the point of view of an Israeli citizen. [ more infos ] [ music ] [ watch trailer ] [ press releases ]
MISCHA KRAUSZ was born 1954 in Carynthia/Austria and raised in Vienna. Studies of the Violoncello at the age of ten, studies of electric bass at the Vienna Conservatory of Music, completion with a degree.
Studies of Orchestration at the Berklee College of Music, working as a bass player. Writing arrangements and producing music for Jazz and Pop projects for his own label m.krausz records
-
Recording/Mixing/Mastering is completed at his own Studio Bartberg
. Core business though is working as a composer, writing scores for TV and Cinema as well as composing and arranging music for Theater plays.
In December 2008 Mischa Krausz founded the publishing company Edition Studio Bartberg. From now on his work will be published through Edition Studio Bartberg. [ CONTACT ]
more infos about MISCHA KRAUSZ @ www.mischakrausz.at or www.myspace.com/mischakrausz
[ unsubscribe Newsletter ] December 2009 @ EnterSound Productions, Eva Lugger - www.entersound.net